"Uptown Funk / Thriller" is a Straight No Chaser mash-up song; led by Jerome Collins.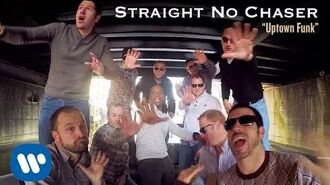 "Uptown Funk" was originally by Mark Ronson.
"Thriller" was originally by Michael Jackson.
Straight No Chaser's official music video for this song does not include "Thriller".
During the New Old Fashioned Tour, this arrangement was performed as a closer; during the I'll Have Another... World Tour, it is performed as an opener.

This is the only song Straight No Chaser has used as both an opener and a closer.

During December 2015, Jerome missed two shows due to the birth of his daughter; Steve sang lead in his stead during these performances.
Ad blocker interference detected!
Wikia is a free-to-use site that makes money from advertising. We have a modified experience for viewers using ad blockers

Wikia is not accessible if you've made further modifications. Remove the custom ad blocker rule(s) and the page will load as expected.