"The British Invasion Medley" is a Straight No Chaser Medley comprised of excerpts from "Help!", "(I Can't Get No) Satisfaction", "All You Need Is Love", "You Can't Always Get What You Want", and "Let It Be"; featuring solos by Ryan Ahlwardt, Don Nottingham, and Mike Luginbill. Every song featured in this medley was by either The Rolling Stones or The Beatles.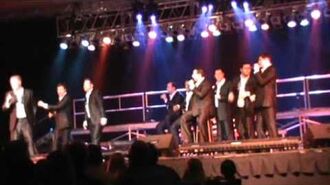 Don Nottingham was unable to make it to several shows in 2011 due to the birth of his son; during these shows, his solo was sung by Dave Roberts.
Ad blocker interference detected!
Wikia is a free-to-use site that makes money from advertising. We have a modified experience for viewers using ad blockers

Wikia is not accessible if you've made further modifications. Remove the custom ad blocker rule(s) and the page will load as expected.