"Na Na Hey Hey Kiss Him Goodbye" is a song covered by Straight No Chaser, featuring solos by Don Nottingham and Walter Chase.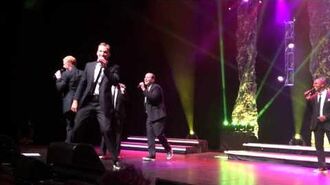 This song was originally written and recorded by Paul Leka, Gary DeCarlo, and Dale Frashuer.
Straight No Chaser has only performed this song at Harrah's Casino in Atlantic City, during there Rewind show in 2014.
Ad blocker interference detected!
Wikia is a free-to-use site that makes money from advertising. We have a modified experience for viewers using ad blockers

Wikia is not accessible if you've made further modifications. Remove the custom ad blocker rule(s) and the page will load as expected.