"Hark! The Herald Angels Sing / Angels We Have Heard on High" is a Straight No Chaser mash-up, featuring solos by Jerome Collins and Mike Luginbill.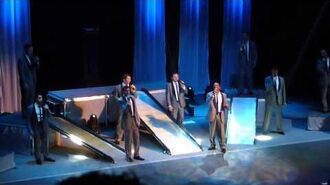 "Hark! the Herald Angels Sing" was originally written by Charles Wesley.
The lyrics of "Angels We Have Heard on High" were originally written by James Chadwick, loosely translated from the French song "Les Anges Dans Nos Campagnes".
Ad blocker interference detected!
Wikia is a free-to-use site that makes money from advertising. We have a modified experience for viewers using ad blockers

Wikia is not accessible if you've made further modifications. Remove the custom ad blocker rule(s) and the page will load as expected.