The "Earth, Wind & Fire Medley" is a medley of songs performed by Straight No Chaser; consisting of the songs "Sing a Song" (led by Mike Luginbill), "Got to Get You Into My Life" (led by Tyler Trepp), "September" (led by Mike Luginbill and Walter Chase).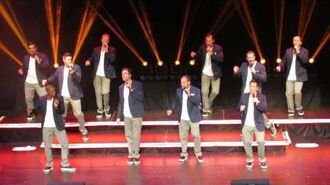 As the name implies, all the songs in this medley were originally by Earth, Wind & Fire.
This medley was first performed as part of a special show at Harrah's Casino in Atlantic City in the summer of 2011.
Ad blocker interference detected!
Wikia is a free-to-use site that makes money from advertising. We have a modified experience for viewers using ad blockers

Wikia is not accessible if you've made further modifications. Remove the custom ad blocker rule(s) and the page will load as expected.