"Christmas Don't Late" is a song covered by Straight No Chaser; led by Seggie Isho, Tyler Trepp, and Dave Roberts.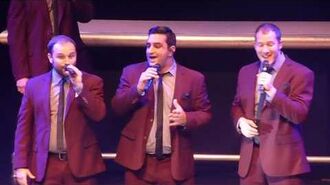 "Christmas Don't Be Late" was originally written by Ross Bagdasarian, Sr.

It is best known as a part of the soundtrack for Alvin and the Chipmunks.

The trio leading Straight No Chaser's cover of this song originally included Ryan Ahlwardt; until he left the group in late 2012, when his singing part was taken over by Tyler Trepp.
Ad blocker interference detected!
Wikia is a free-to-use site that makes money from advertising. We have a modified experience for viewers using ad blockers

Wikia is not accessible if you've made further modifications. Remove the custom ad blocker rule(s) and the page will load as expected.