The "2000's Medley" is a medley of songs put together by Straight No Chaser. It consists of "Forget You" (led by Jerome Collins), "Baby" (led by Mike Luginbill), "Bad Romance" (led by Tyler Trepp), and "Poker Face" (no distinct lead).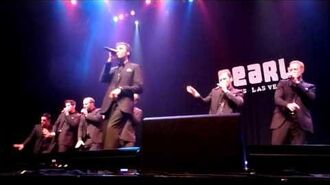 "Forget You" was originally written by CeeLo Green, The Smeezingtons, and Brody Brown; and produced by The Smeezingtons.
"Baby" was originally written by Justin Bieber with Christopher "Tricky" Stewart and Terius "The-Dream" Nash.
"Bad Romance" and "Poker Face" were originally written and recorded by Lady Gaga.

Both songs were included in Straight No Chaser's "Lady Gaga Medley", before the debut of the "2000's Medley".

This medley was the conclusion of the special shows at Harrah's Casino in Atlantic City in 2011, which featured a medley for every decade of music starting with the 1950's.
Ad blocker interference detected!
Wikia is a free-to-use site that makes money from advertising. We have a modified experience for viewers using ad blockers

Wikia is not accessible if you've made further modifications. Remove the custom ad blocker rule(s) and the page will load as expected.